The Here to Go Show was held in Dublin Ireland in 1992. It was a celebration of the life and work of Brion Gysin. The Master Musicians of Joujouka played most days during the festival. The below is poster for the show and advertises Master Musicians of Joujouka for Sept. 30th 1992. The concert was a benefit for Somalian Famine Relief held at the Project Arts Centre. In fact they played every night.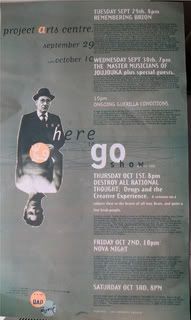 For full size image
click here
The book in a box,
Man from Nowhere Storming the citadels of Enlightenment with William Burroughs and Brion Gysin
was published with 16 postcards of work by Gysin and Burroughs and photographs with personal tributes to Brion Gysin by Bill Laswell, William Burroughs, John Giorno, Ira Cohen, Terry Wilson, Keith Haring, Stanley Booth, Mohamed Hamri, Paul Bowles and more was published to coincide with the event.