The first release by Master Musicians of Joujouka recorded at the Master Musicians of Joujouka Brian Jones 40th Anniversary Festival 29 July 2008 is out now from Antibothis
.
The Master Musicians of Joujouka track is
Habibi Wan Amali/ My love what more have I
L'Aitta /The Call
Recorded in Joujouka/Jajouka/Zahjouka on the same spot the Masters played 40 years to the day before the Rolling Stones founder Brian Jones recorded the Master Musicians of Joujouka "Brian Jones presents the Pipes of Pan at Joujouka" LP (Rolling Stones Records 1971).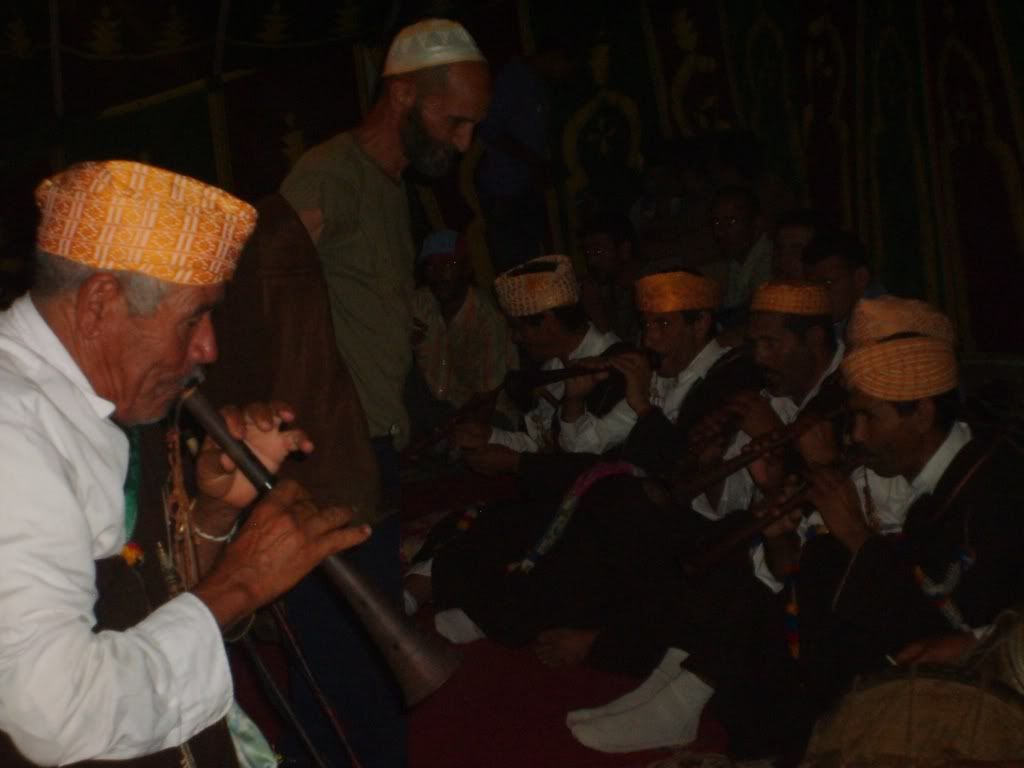 Produced by Frank Rynne
Engineered by David
Slevin
Mixed at Virtu Stdios, Dublin, Ireland.
The book features "Brian Jones Joujouka Rolling Stone" by Frank Rynne, an account of Frank Rynne's work with Joujouka since 1992 and the Brian Jones 40th Anniversary Festival
ANTIBOTHIS - Occultural Anthology 3
Book anthology + cd compilation.
135 PAGES, IN ENGLISH
The anti-civilizationist author JOHN ZERZAN on "Silence".
LIAM SIONNACH from Earth First on " Becoming an Anti-Capitalist Ecological Social Force".
CHAD HENSLEY on " Dead Lays".
EWEN CHARDRONNET on "Molecules of Combat".
IONA MILLER on " Sasha´s Ecstasy & the Agony of CONtrollers".
JOE AMBROSE on " The Darker Side of Me - White Irish".
NIGEL AYERS on "All Killer, No Filler".
WILFRED HOU JE BEK on "In Defense of Primate Poetics".
FRANK RYNNE on " Brian Jones Joujouka Rolling Stone".
RANDALL PYKE on " Neo-Anarchist Dream State".
ADI NEWTON and JANE RADION NEWTON on "The Denizens of Beyond".
Antibothis cd compilation includes:
The Master Musicians of Joujouka, Lydia Lunch with Philippe Petit, Checkpoint 303, Kal Cahoone, Gintas K, Orbit Service, Anla Courtis, Stpo, Jabe Radion Newton and Adi Newton / T.A.G.C., Zeitkratzer, Pietro Riparbelli/K11, Gjoll.
PRICE : 15.00 euros with postage included everywhere,payable through Paypal , please go to Buy Books link.
Published by Associação Chili com Carne and Thisco
THISCOvery CChanel collection
First edition, May 2010

Design by
João Cunha
BUY NOW http://www.antibothis.com/pages/buy.php
Master Musicians Festival 4-6 June Booking Now www.joujouka.net
Special thanks to Thisco for his selfless work.
About Antibothis
ANTIBOTHIS is a collection of book anthologies featuring texts, interviews showcasing a variety of ideas that are a genuine alternative to the dogma of conformity, the commitment to disconnect the cables of corporhate coolonization, disinverting cultural reality through the dissemination and dispersion of alternatives vortices of information and infinite chaotic propaganda, speculation, simulation, stimulation, to revolutionize the dynamics of life in a total process of cultural transformation, reclaiming our guts and revolt in the name of imagination in opposition to a toxic life of low awareness, herd mentality and programmed though, infecting human minds and alter their behaviour.