"You Should be trancin'" Mark Paytress reports on last year's Master Musicians of Joujouka, Brian Jones 40th Anniversary Festival in Joujouka which took place July 29-30, 2008.
You Should be trancin

by Mark Paytress Mojo, October, 2008.
THE MASTER MUSICIANS OF JOUJOUKA MARK 40 YEARS SINCE BRIAN JONES CAME CALLING ON THE GREAT GOD PAN.

BY MARK PAYTRESS
A tiny man wrapped In goat-skins brings his frenzied movements to an.. abrupt standstill in front of MOJO's reporter, undercover in fez and ankle-length djellaba for the night. He fixes my gaze like a man possessed, rolls his head rapidly from side to side, and starts whipping me with an olive branch. Have I really travelled 2,000 miles to endure this?
Yes, of course.This is all part of the ancient Rites of Pan, an annual ceremony that takes place in the foothills oft heRif Mountains in north Morocco, where the 500 or so villagers of Joujouka gather in a dusty square for a through-the-night Boujeloud ritual that will ensure the fertility of both crops and community.
Tonight, though, the event has special significance. Forty years earlier, on July 29,1968, Rolling Stones guitarist Brian Jones, together with Olympic Studios engineer George Chkiantz, rolled into the village with a 2-track Uher and recorded what writer William Burroughs called the "diabolic music" of The Master Musicians of Joujouka. Released in October 1971, two years after Jones's death, Brian Jones Presents The Pipes Of Pan At Joujouka remains a land- mark in what's now called world music. It also made Jones - famously unloved by his band at this point - a legend out here. "He looked strange with his big hair," recalls 94-year-old Abdeslam El Attar, who played on the album, but still the villagers cele-brate him in song: "Ah Brahim Jones/Joujouka very stoned".
Tonight, MOJO is among 40 or so awe-struck non- villagers following in the footsteps of the dandy prince of '60s pop. Some such as Michael Dean Odin Pollock from Iceland, are here thanks to Jones.
Others, like Mark English from Texas, come via the beat generation connection or, like Maeve Mooney from Sligo, Ireland, because they are simply "in love with the idea of the whole trance thing".
Also in attendance is Anita Pallenberg, Jones's girlfriend on his earlier visits to Morocco. Slim, chain-smoking and approachable (at least, when no one pokes a microphone at her), she spends much of her time capturing the amber, surprisingly verdant landscapes in her sketch- book. "Brian was pure," she says, when asked what had brought Jones to this remote, unforgiving corner of the globe. "He probably enjoyed the purity because he was so impure!" adds her companion, John Dunbar, one-time spouse of Marianne Faithful! Who remembers the golden Stone enthusing wildly about the tapes on his return to London in August 1968.
This unique event is the brainchild of Frank Rynne, one-time frontman for The Baby Snakes and a passionate advocate of the music of Joujouka, who's been coming to the village since 1994. He's produced three CDs for the Master Musicians and has plans to release this anniversary performance on CD and DVD. "The musicians have had a lot of problems keeping control of their own heritage," he says, a likely reference to Bachir Attar's breakaway group that performs a more Western- friendly version of the music. "This doesn't sit well with musicians who are used to that collective approach playing very pure folk music," he adds.

For four lazy days and exhilarating nights, MOJO gets a taste of life as part of that collective. In the village are 200 or so dwellings, including a mosque and a shrine to the local saint, Sidi Ahmed Scheich, alias The Healer Of Crazy Minds. Further up the mile-long dirt-track that leads to the village is the house of local son Hamri, 'The Picasso of Morocco', who brought writers Paul Bowles, Brion Gysin and William Burroughs here, as well as Jones. Hamri died in 2000, but the newly built guest house, where the Master Musicians treat us to long, spontaneous performances of their hypnotic healing music, looks down on his old residence in silent recognition of his work on behalf of the village. It is here that, sans footwear, we take refuge from the scorching heat, the cash hungry youths and the diamond-backed viper that we met while visiting Boujeloud's cave further up the hill. It's also where we eat: lamb shanks for the carnivores, whole fish, carrots and potatoes for those who decline the invitation to witness the 90-minute transformation of a sheep into a meal. Accompanied by giant wheels of Moroccan bread and incongruous bottles of Coke and Fanta, it's heavy fare, as your reporter discovers when invited to shake a little post-meal action. "Mesyen besef!"cry the Masters.
No one can compete with goat-man Boujeloud, though, whose manic, shiver'n'shake moves make Cocker, Curtis and Fay Fife seem positively sluggish in comparison. As the nine royally attired Masters hit their Rite stride, the shrill drones and darting melodies of their oboe-like rhaitas weaving a mesmerising spell over the pounding tebels, and a glowing bonfire lights up the shadowy, rock- strewn square, Boujeloud whips up the crowd. A two-foot kif pipe goes round. Boisterous boys in the shadows leap and yell uncontrollably as the hairy apparition chases them with his fertility stick. A giant toad emerges from under a rock. High only on the distinctly pagan-like vibe, your reporter soon feverishly succumbs to what Jones described as "the spirit and magic of Joujouka".
Had Jones returned here again in spring 1969, as he intended before being sacked by the Stones, the tragic course of his life might have been altered. However, while history can not be changed, the mysteries of this music from the Moroccan hills also endure. Back in London several days later, the sounds of Joujouka play on in my head. This Moroccan roll is strong stuff, indeed.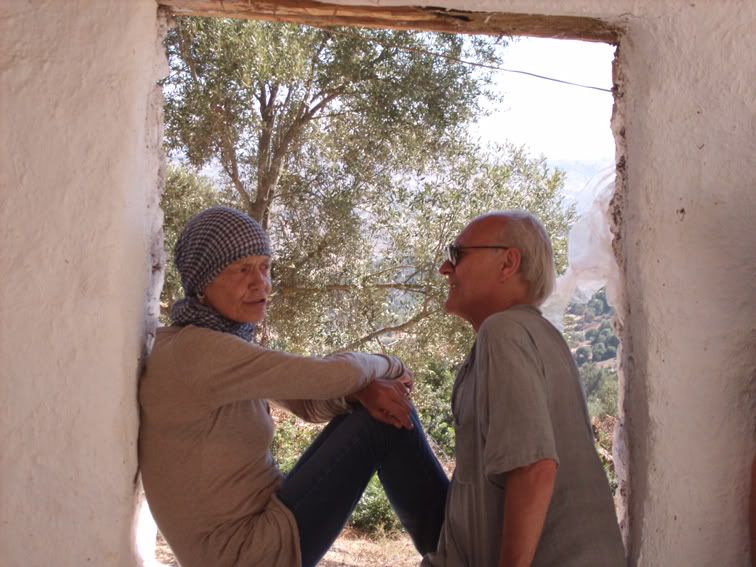 Anita Pallenberg and John Dunbar, Joujouka, July 28 2008. Photo Frank Rynne

Acting THE GOAT
THE 4,000-YEAR-OLD
ROCK'N'ROLL BAND
EXPLAINED
It was acid advocate Timothy Leary who first dubbed the Master Musicians Of Joujouka 'The Four Thousand YearOld Rock'n'Roll Band" in his Jail Notes memoir in 1971. He did so on the advice of William Burroughs (left!, who saw parallels between the Boujeloud rite and the ancient Greek god Pan, and concluded that the ritual music had a similar provenance. What is certain is that Joujouka's original Sufi musicians came to the mountains of Al-Sherif from Persia around the seventh century. One thousand years later, this sacred music was co-opted by the Royal Court of Morocco, whose Sultans saw it both as an aid to healing and as a rousing prelude to battle. The Legend Of Boujeloud, as chronicled by Hamri in his 1975 book of short stories. Tales of Joujouka, tells of the cave-dwelling goat-man who gifts villager Attar with a flute in exchange for the hand of a local woman. The annual ritual re- enacts Boujeloud's arrival, his encounter with Crazy Aysha, and his departure, that leaves the villagers transformed and spiritually regenerated. "It works!" insists Frank Rynne. "Anita was feeling a bit ill when she arrived, but after hearing the music, she's feeling great.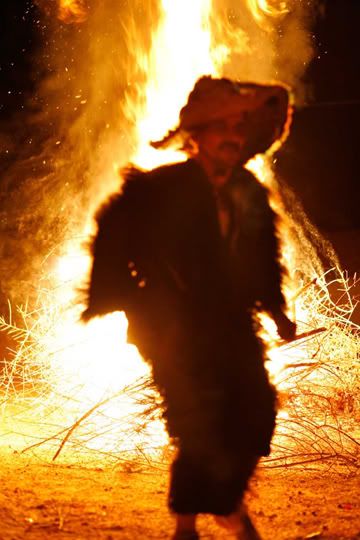 Boujeloud, July, 2008 copyright
Jill Furmanovsky/Rock Archive